Why I took part in the Channel 4 series Food Unwrapped…and my challenge to the restaurant trade!
Last night investigative journalist Kate Quilton, one of the presenters of Channel 4 series Food Unwrapped, sent a team of allergy sufferers on to the streets of London to buy safe food – and I was one of them.
I was invited to take part because I have severe food allergies and anaphylaxis and for the last few years I've been trying to raise awareness of what life is like for those of us who have food allergies. This means if I eat nuts (or even breathe in any kind of nut allergen) and many other things I could die.
Too often when I point out my allergies I'm isolated, humiliated and embarrassed even though I know that eating the wrong thing can kill me.
We filmed for this programme much earlier this year – before lockdown – and I've only been able to talk about it for the last few days when I knew the programme's transmission date. We were dubbed the Allergy SWAT team.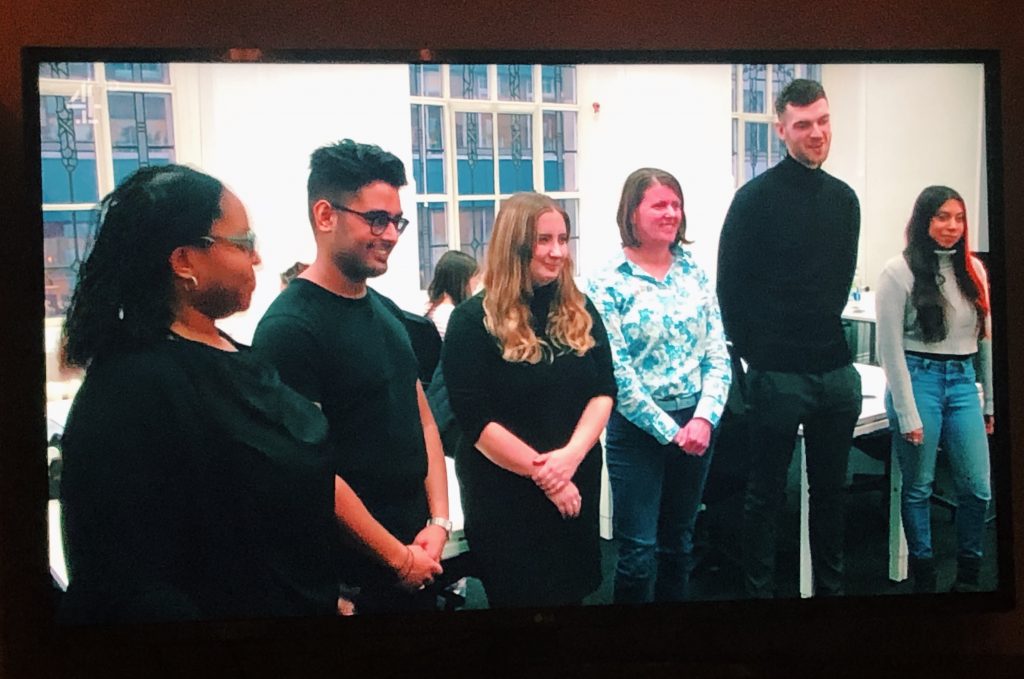 In October next year Natasha's Law comes into force which will mean that any company which offers 'food on the go' which is fresh and packaged on the same site must list all ingredients within every separate item.
This law is named in memory of teenager Natasha Ednan-Laparouse who died after eating a sandwich from Pret A Manger which contained sesame seeds and there was nothing on the label to show that.
Sesame seeds were actually in the flour in the bread used to make her sandwich. Natasha and her family thought she was safe as she was very careful about reading the labelling on anything she ate – she trusted that that information was accurate. It was inaccurate by omission.
Her father Nadim described how Natasha bought and ate the sandwich as the family were about to board a flight to go on holiday. About 20 minutes into the flight she began to have trouble breathing. Nadim tried to help her injecting two Epi-pens into her thigh to deliver adrenalin to the body to stop the anaphylactic shock.
It was terrible to hear him describe watching his daughter die and being unable to do anything to save her. Since his daughter's death both Nadim and Natasha's mum Tanya have campaigned for changes in the law around food labelling.
I believe Natasha's Law is a step on the right direction – but that's all that it is. Much more needs to be done to force restaurants, cafes and takeaways to improve their labelling and care of people like me. This programme showed that very clearly. I was one of six sufferers sent out on the streets of London to buy food and to ask questions of the staff in 12 of the UK's best known restaurants and takeaways.
I was tasked to visit a well-known fast food restaurant where you often order via a touch screen. That screen offers absolutely no information at all about allergens – I could find vegetarian options but that was it. For someone like me, that's not tenable. When I asked a member of staff for their allergen information I was given a booklet to read. I was told that I had to read it, that they were not allowed to read it to me.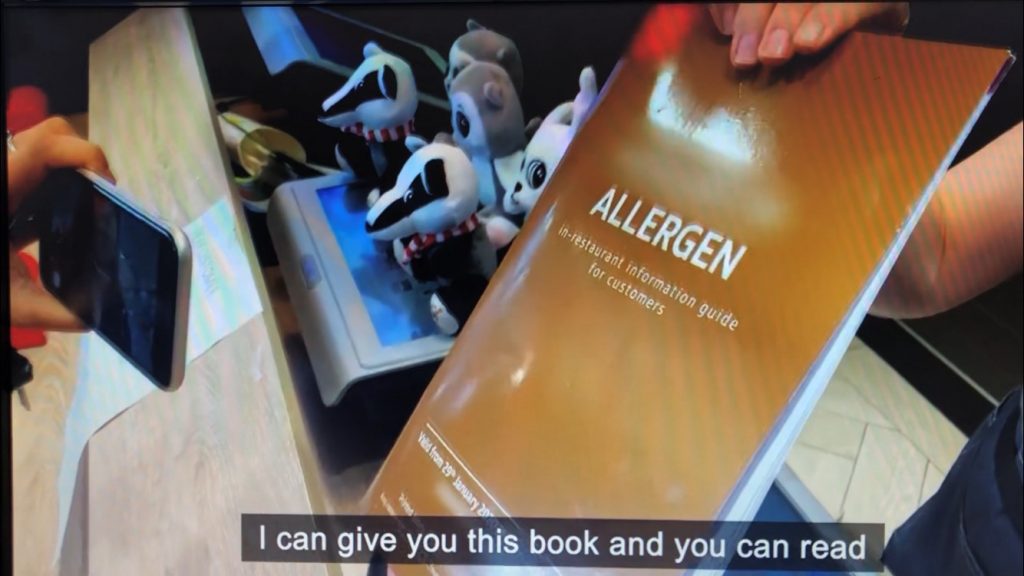 Of course I knew why this was happening. It's to put the onus on me to read the booklet in all of its details and to then act upon it. No fast food for me! I have to read a book before I can even attempt to place an order!
In other words my allergies are my problem and therefore I need to take my own life into my own hands in order to buy a takeaway at that fast food outlet. This is not uncommon.
One of my colleagues went to a restaurant, sat down, got the menu and then told the staff she had an allergy to peanuts and what could she eat? She was then handed a notice which basically said she could not be served, that was their 'policy'. The team could not guarantee her safety so they would not serve her.
There is no doubt we are facing a battle with many in the restaurant, café and takeaway sector reluctant to do anything further to support those with food allergies. During the programme a well-known chef – who asked for his identity to be hidden – spelled out a view which is common.
He talked about 'blame culture' and that allergies were trendy at the moment and quite newsworthy.
"if you've got an allergy isn't up to you rather than everyone else to manage it?," he said – as if we don't do that day in and day out any way!
He asked why the law had to change for the small number of people who have allergies when most people do not. His view is one I've heard before, however, he clearly wasn't 'brave' enough to stand up and be counted. I wonder why – worried he'd lose customers for having no compassion?
Not every chef is like him. Dominic Teague (One Aldwych) showed Kate the steps he's taking in his kitchen to support those with allergies. He showed how to serve a customer with an allergy to garlic, it takes much longer (as food cannot be prepared in advance) and many restaurants prepare elements of their dishes in advance to speed through service. Something that's difficult to do when a guest has allergies. Difficult yet not impossible.
"There's people who could potentially die if we get it wrong and we have take it seriously, " Dominic said.
This programme showed clearly that although Natasha's Law is a good thing – it's going to be an uphill battle to get a sector to be more responsible around labelling and cooking fresh food. It's going to take far more campaigning to make it unacceptable to 'support' those with allergies beyond refusing to serve them or getting them to read a book before deciding to leave or stay. I'm surprised some outlets don't get us to sign a disclaimer so that if we die it will be our fault and not theirs!
The truth is that this problem is not going away any time soon. Food allergies are rising across Europe and the world. It's estimated there are about two million of us who suffer from them in the UK. There has been a 72 per cent rise in food allergies in children in the last five years alone.
No one knows what causes allergies – is it because we are obsessed with being germ free? Have we made our world too sanitised so that people like me are more at risk? Who knows – there's still more research to be done.
Restaurants, cafes and takeaways need to get with the allergy programme. Allergy sufferers have money to spend and when we go somewhere and are cared for, where we can eat great food safely, we'll be back and we'll shout about it. We are becoming a loyal yet vocal bunch – no hidden identities for many of us!
This sector has shown such ingenuity over the last few decades in catering for vegetarians, vegans and those who live gluten free, so much so that it's now mainstream. It needs to be the same for those of us with other allergies. It's not that difficult in these days of online booking to ask about allergies upfront to allow for safe preparation of food is it?
I challenge any owner of any restaurant or takeaway chain to work with me to move forward in a way that works for us all. Who will take up that challenge?
And don't even get me started on Epi-pens…but that's a whole other story….
Fact file:
Natasha had lethal food allergies but with poor labellings If you want to find out more about the series visit – https://www.channel4.com/programmes/food-unwrapped
To find out more about me and also one of my blogs about living with allergies visit – https://julianneponan.com/five-ways-in-which-being-allergic-can-impact-on-your-quality-of-life-and-can-cause-psychological-distress/
To see what the NHS says about allergies visit https://www.nhs.uk/conditions/allergies/
To find out more about allergies in general visit https://www.allergyuk.org
To find out more about anaphylaxis visit https://www.anaphylaxis.org.uk