It's been an amazing month for me personally and for Creative Nature!
I have had the most amazing June.
This month Creative Nature has been awarded two new awards; from the On-Board Hospitality Awards and Free From Awards.
And, I've been shortlisted as a finalist for the IoD (Institute of Directors), Director of the Year!
This latter award, I was shortlisted in the Family Business and SME categories. It's a great achievement even to be shortlisted, as it is a national award, not just covering my geographical area.
The Institute of Directors, is a British professional organisation for company directors, senior business leaders and entrepreneurs. It has been running since 1903, which makes it the UK's longest running organisation for professional leaders.
The award celebrates leadership, achievements and contributions of business leaders, and the judging panel for the shortlist of finalists was made up of 20 directors, senior managers, non-executives, academics and other specialists.
The award ceremony isn't until September, so I will have to wait until then to find out if I've won. However, I'm already a winner in one sense, as it is an achievement to be a finalist in such a prestigious award.
The Onboard Hospitality Awards ceremony was held at the World Travel Catering and Onboard Service Expo (WTCE), in Hamburg Germany. This brings together, brands and buyers from the world's leading airline and rail companies.
I was named as one of the Ones to Watch, referring to a new product we have created. These awards are very close to my heart, as I have personally faced many challenges when flying, due to my allergies. The main thing for me is that this signals a significant shift in the industry's thinking. They are beginning to recognise the importance of individual customers with allergies, as a vital consumer segment.
Onboard Hospitality is a magazine which is the hub for news, views and top trends in travel hospitality. During the Expo, I was a speaker, talking about the issue of anxiety experienced by people with allergies at 35,000 feet!
My second win was at the Free From Awards in London, only two days after the award ceremony in Germany!
Creative Nature's Simply Spiced Carrot Loaf Cake Mix won the Nut and Peanut Free category.
Being allergic to all tree nuts, carrot cake has always been something I am unable to eat unless it was made from scratch at home. My delicious and allergy-safe home recipe is now super easy for anyone to make – just add 2 ingredients and water to the mix!
It is a great feeling to know that my company's products are winning awards because they are safe for other people who suffer with allergies or intolerance – and they are vegan-friendly.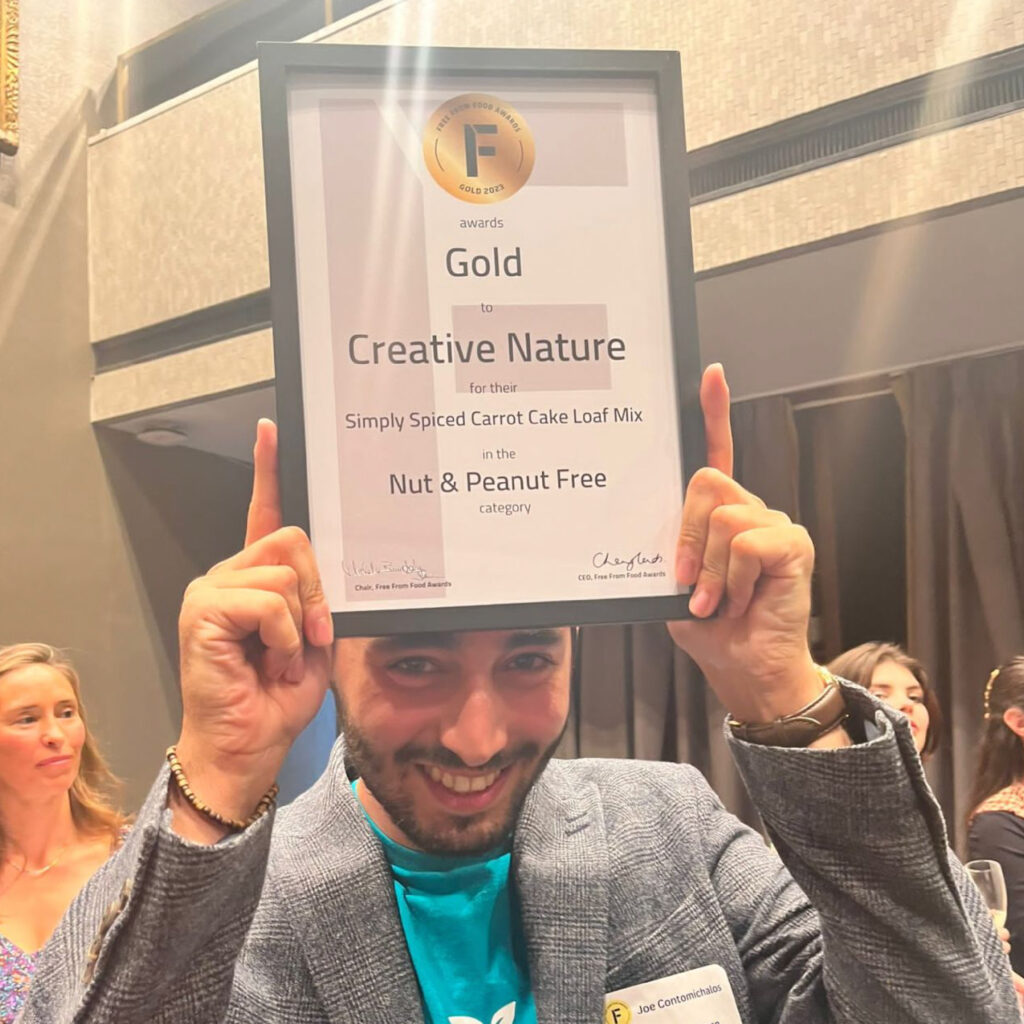 I'm very proud and grateful about the awards we have won at Creative Nature and now one of main goals is to help make people aware of the issues that allergy sufferers have when it comes to eating in public places. To be recognised for this is just the icing on the cake (made with our own baking mixes of course!).