I had my long awaited surprise Sten-do last Saturday and it was SO much fun! For all of you that are slightly confused what a Sten-do is, me and Matt decided to combine my Hen-do and his Stag-do. Matt and me work together and live together so seemed fitting to have a STENDO together. If any of you are thinking about doing something like this, it is so worth it. Seeing so many of our closest friends that I hadn't seen in years was incredible, I couldn't believe that some had even come from so far north, the effort was really appreciated.
We were told absolutely nothing, apart from we needed to meet our friends at 'Adventure Golf' in Greenwich Peninsula, which made me nervous (I'm usually a person who needs to know everything but I wanted this to be a surprise). When we arrived, we had Krispy Kreme's waiting for us which Matt opened straight away.
We then moved on to 'Tocasocial' , if you haven't been here before and love all things football you must go. The whole concept was to kick footballs at various targets that were projected onto a screen. Matt was in this element whereas I can happily say I was not the best at this. There were also some really fun photobooths that we took full advantage of you, could even make your own little gifs! When it comes to ordering alcoholic drinks, I have to be very careful as some alcohol contains things that I'm allergic to including Gin that can be distilled through nuts. I had such a good experience here, they brought out the menu which showed me each bottle they stocked for me to look at and make sure what I ordered didn't contain anything I'm allergic to. The lady who was serving us also had allergies so took very good care of me while we were there.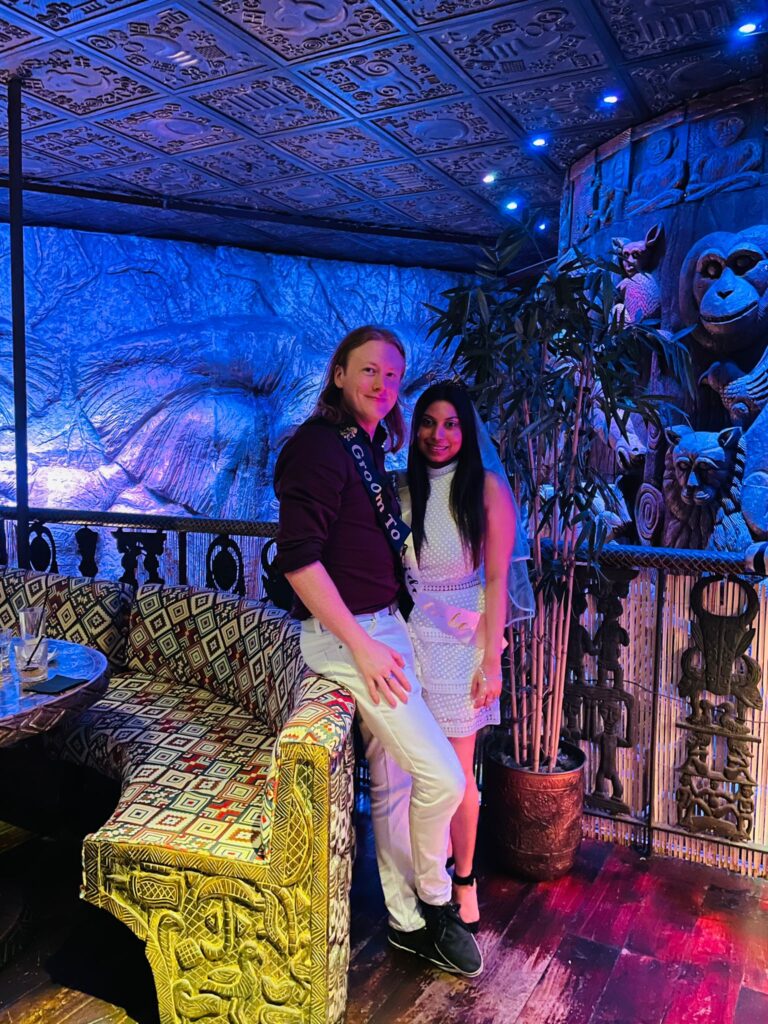 For the final venue of the night, now it was my turn to be in my element after golf and football, we headed over to Shaka Zulu in Camden. It was SO cool! It is the London's largest South African restaurant, and it even had its own nightclub inside on the ground floor!! The interior of the restaurant was amazing, and the food was so delicious, I had some skewers with peri chips which I really enjoyed. After we finished up dinner we headed down to the nightclub, I was sceptical at first about it but once I was a little bit more comfortable, I had such a fun time, I forgot what it was like to be in a club dancing again! (Matt even got up on the dance floor for me).
A big big big thank you to Zahara Chowdhury for organizing it all for us and for everyone who came! Everyone had such a fun time, and it will be a night that none of us will forget!
Next up the wedding, t – 3 weeks!!