My top allergen friendly beauty products!
Many of us don't think about the ingredients in skincare and beauty products, before putting them onto our bodies. In fact, we should, because the skin is the largest organ in our body!
Therefore, if there are certain foods, or pollen that you are allergic to, then you are also likely to be allergic to the oils and fragrances in many skin products. Just like me!
In the UK about two in 100 children and about one in 200 adults have an allergy to nuts, of which I am one. I know that I need to be vigilant about coming into contact with nuts when travelling on airlines, and reading ingredients on foods I eat. However, somewhere many of us can be caught unawares is when buying lip balm or shampoo or any kind of product which we can apply to our body. You'd be amazed how many have nuts or nut traces in them.
It's very easy to miss such ingredients as often they are listed under the Latin names: Cocos nucifera, Litchi chinensis, Anacardium occidentale – Coconut, Lychee and Cashew.
Other common allergens found in cosmetic products include:
· Latex
· Fragrances can cause many problems The European Commission has a list of them.
· Preservatives
· Dyes particularly in hair dyes and black henna tattoos;
· Nickel and gold.
Whereas laws around labelling have become more stringent in the food industry, it is a shame that this hasn't been widened to the cosmetics industry too.
Suffering from anaphylaxis, I always have to read labels carefully when purchasing my beauty products. Several of the products I use can be found on SkinSAFE, a site where you can check if products are allergen-free.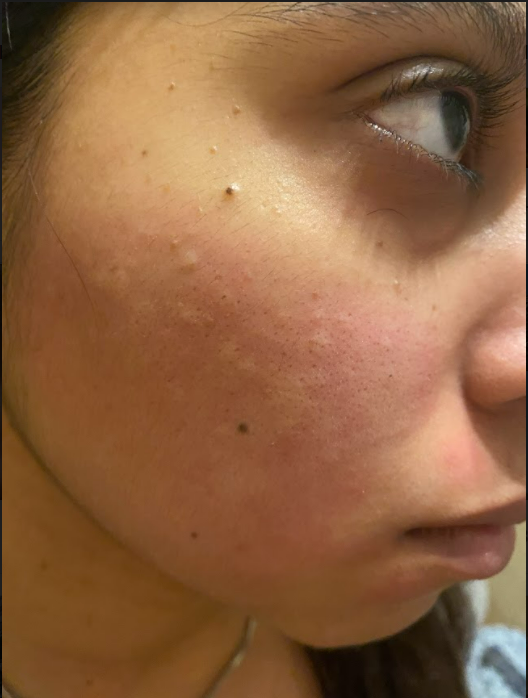 These are my favourite allergen free and safe beauty products:
· Cheeky Panda wipes – great for removing make up and they are dermatologically tested, and are 100% biodegradable and compostable. And they are hypoallergenic.
· Chanel Chance – my favourite perfume. It has a floral fragrance, with scents of pink pepper, jasmine and amber patchouli, laced with white musk and vanilla.
· Bourjois lip gloss – I love this, because it is hypoallergenic, and it feels amazing on my lips.
· Avocado and Spirulina Facemask – I mix an avocado and some of our Creative Nature superfood, Spirulina Pacifica powder to make my own facemask. Because all of our products are top 14 allergen, gluten-free, dairy-free, vegan I know this is perfectly safe to put on my skin.
· 7th Heaven facemasks but only specific ones – their products are cruelty free accredited and therefore vegan. Their Black Seaweed Peel-off Mask is 91% top allergen free, and free of gluten, Coconut and Nickel.
· Garnier facemasks – my favourite are the pomegranate ones. As of March 2021, Garnier are officially cruelty -free and are also accredited as such.
· Plain vanilla scented candles. I love to have them around the house, but you must always check the labels for ingredients. Even candles can be dangerous for someone like me!