Sign a waiver, sign your life away
After months of lockdowns and restrictions, things are beginning to open up slowly, which means I can go out to eat again.
However, it seems, for me and others who suffer with allergies, things are not quite so straightforward.
At a time when people have been dying and one would hope that we have become a more caring nation, it appears, sadly we are not.
Shockingly, many restaurants and cafes are putting up signs saying that people with allergies are not welcome on their premises.
Recently, I saw a sign a huge restaurant chain put up:
"Allergies, unfortunately we can't guarantee any of our food is 100% allergen free."
Many chains, (Greene King is one), are putting up these signs which are actually saying, to me, 'you eat at your own risk.'
Some are even expecting people to sign waivers, asking them to accept responsibility for what they eat from a kitchen they cannot control.
By doing this, you may as well be signing your life away.
This needs to stop! Having allergies should not mean I have to sign a waiver or risk my life to eat, just because a restaurant chain can't be bothered to keep their kitchen clean!
To be honest this puts me off eating there even if I didn't have allergies, as who knows if their kitchen is actually clean?


Is this going to be the new-norm, that restaurants will not take any responsibility?
Prior to the pandemic, things had been slowly improving.
Restaurateurs were happy to talk to me and understand about foods I had to stay clear from. I could often organise with the restaurant before my visit to check everything would be ok.
Many restaurants had clear information on their menus about the ingredients included in particular meals.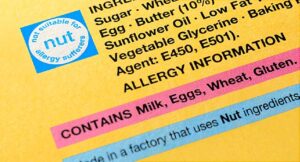 Sadly, the whole situation has been turned on its head.
Why might restaurants be doing this?
Many staff have left the hospitality industry, due to the long furloughs and the need to find other jobs and security. Therefore, many restaurants are opening up with fewer customers and fewer staff. They are finding it hard to cope and are either unable, unwilling or don't feel inclined to be bothered to serve customers who have allergies or intolerances, and who they see as difficult.
It seems that these hospitality businesses are caring less for their customers. In the long run, as much as I understand the incredible difficulties they've had during the lockdowns, with the numbers of allergy sufferers on the increase, they will be losing many clients.
They won't be growing their businesses to the extent they could, if they catered for allergy sufferers. In the UK, food allergies affect 7 % of children and over 2 million adults have been diagnosed with food allergies.
Allergen sufferers will vote with their feet.
How is this affecting allergy sufferers?
Two of my Instagram followers, kindly agreed to answer some questions, and share their feelings with me on the subject.
Steph Wellsted, Wolverhampton
How long have you suffered from allergies?
I have suffered since I was 19, mainly with IBS based problems. I have phases where I can't eat certain foods, I stop eating them and then gradually introduce them again.
However, my daughter, Emilie was diagnosed as being allergic to cow's milk when she was 6 weeks old. She will be 3 next month.
We carry an epi pen due to her dairy allergy, but she also has an allergy to tomatoes. Tomatoes of course aren't in the top 14 allergens, which can be another problem.
We keep trying different things, to see if she can tolerate only small amounts, but even a biscuit with any milk in can cause problems.
Have you been asked to sign a waiver by any restaurant or eatery?
Not recently, the last time was about 3 years ago. We walked out and haven't and would never go there again.
If yes, she 'd walk out and wouldn't ever go there again. It's their responsibility – the res
Tell me about when you walked away from an eatery/restaurant because they haven't made you feel safe? Can you give an example and explain?
2 years ago, while Emilie was still little, we visited Pizza Hut. We knew she couldn't eat pizza, but we thought she could have a little bit of pasta and vegetables. However, they couldn't say if the vegetables or pasta were dairy free. The staff didn't have a clue. I did have something with me that she could eat, but they told us we weren't allowed to feed her our own food!
Have you been told that there is nothing available for you to eat? How did this make you feel?
No, because I research online and where possible I always phone the restaurant beforehand. Now, we only go to safe places.
The allergy community is very tight knit and if anyone goes anywhere and doesn't get good and safe service, news spreads quickly. Especially when children are involved.
We tend to go to the same places over and over again.
Last week we met up with other family members at a Beefeater, Wolverhampton. They staff were fantastic. So supportive. The manager came out to take our daughters order. Then he spoke to the chef, who sent out suggestions for the best things to choose on the menu. They couldn't have been nicer. And, when I asked if I could give her some of the mayonnaise that I had brought with me, that was specifically for her – dairy free – they were more than pleased for us to use it.
Raises anxiety levels a lot. Everyone has suffered during the pandemic, even children have missed their friends and haven't understood what has been happening. Now we are wanting to get her out and about, and but this whole problem with restaurants turning people away with allergies, is another anxiety we don't need. The hospitality sector will only build back up if they treat people correctly.
Careen-Anne Wallace, Scotland.
How long have you suffered from allergies?
I found out about my allergies when I was 15 (I am 33 now). I ate a pesto chicken pasta salad from Costa Coffee whilst shopping in Glasgow and started feeling unwell shortly afterwards. I had allergy testing following on from this and was told I was anaphylactic to pine nuts/kernels, cashews and pistachios as well as borderline allergic to almonds and other tree nuts. I avoid all tree nuts and peanuts to be safe and I avoid anything that uses the general term "seeds" in case it has pine kernels.
I went into anaphylactic shock at a wedding when I was 19 after being served the wrong dish. I had taken one bite when the waiter removed it from me and I started feeling the effects around 2 – 5 minutes afterwards. I administered one epi-pen which luckily did the trick and was seen by the local hospital shortly afterwards. It was incredibly frightening to feel your throat beginning to close.
What town do you live in?
Dundee, Scotland although I have been staying with my parents during lockdown in Pittenweem (small village in Fife, Scotland).
Have you been asked to sign a waiver by any restaurant or eatery? Please give an example and explain situation.
No – if a restaurant tried to get me to sign one, I would walk out!
Tell me about when you walked away from an eatery/ restaurant because you haven't felt safe? Please give an example and explain situation.
I popped into Brewdog with some friends and we wanted to order pizzas. When I asked whether I could eat there, the bar staff member explained that the kitchen was very small and due to a couple of pizzas having pine nuts on them, he didn't think I should eat there but ultimately left the decision up to me. I definitely didn't feel safe after he laid out all the risks and chose a bag of crisps instead. I tend not to eat or drink from Starbucks or Costa anymore as I don't feel like they are safe places for me. They use pine nuts in their paninis and sandwiches so I am worried the panini toasters are not wiped down properly. I have walked away from a Costa before, as they told me they use the same cloth to wipe down all the milk frothers and therefore couldn't guarantee there wouldn't be traces of almond in my coffee. I have found ordering takeaway to be a complete nightmare over the last few years as well. I tend to avoid these, due to many using the catch-all allergen labelling, "may contain …*lists all top 14 allergens*".
Have you been told that there is nothing available for you to eat? How did this make you feel? Please give an example and explain situation.
I have been refused service by Frankie & Benny's when I was out with friends and family. It was incredibly awkward and embarrassing as I felt like I was the problem, rather than the restaurant being at fault. The waiter explained that the chef did not feel comfortable cooking anything for me, even a bowl of chips! I find these situations really uncomfortable as I feel like I am being a bother and it's so awkward drawing attention to myself.
What would you like to see changed?
All I want is to be able to eat out/order in food without it being a massive hassle and ultimately the decision falling onto me whether or not I have a good feeling about the place based on their communication. It feels like most food places get to hide behind the "can't guarantee" wording which makes me question their entire hygiene standards and this is something that definitely needs to change.
I think that there needs to be more allergy training for all staff who work in the food industry as well. This needs to address that not everyone has a top 14 allergy (I mention this as I was in Wagamama in Manchester and was told the allergen menu didn't address pine nuts as it wasn't top 14 and they couldn't guarantee anything).
I feel so incensed about what is happening. The attitude of these restaurants and eateries is just causing more anxiety and fear.
There are three things that the industry should take into consideration:
They behaviour towards people with food allergies and intolerance is nothing less than discrimination.
The number of children being diagnosed with allergies is on the rise, as also is the number of adults. If the industry continues to treat us this way, their attitude and lack of care could easily impact on their business growth.
There are laws in place to support people with allergies. The latest is Natasha's Law, which comes into force from October 1st. Sadly, it doesn't affect restaurants generally, but it forces food outlets to carry full allergen and ingredient labelling on pre-packaged food made on the premises, such as sandwiches and salads.
Are these restaurants right to do what they are at present? I'd obviously say, 'no'.
Will it change? I really hope so, because otherwise, I think it will put back the campaigning work we have all being doing for allergy rights by several years.
If this does continue, it will be a huge blow to me personally and to the allergy community.