Spotlight of the Month – @maycontain
My spotlight this July is @maycontain. Dan is an amazing advocate in the allergy community and is always the first to address the most recent allergy news and stories (if you haven't already seen, check out his latest posts on the peanut butter McFlurry!!) Here is a little bit about Dan and what he does over at May Contain!
1. Tell us a little bit about what you do and the work you do as 'May Contain'?
I started May Contain in my final year at University in 2015. I was studying graphic design, you get to do a passion project for your degree show. I have always felt there was no content aimed at young people living with severe food allergies. At the time a lot of the content was more aimed at parents.
With this in mind, I decided to create an allergy magazine by taking the epipen out of its medical context and putting it into a fashion context so it was more engaging for young people. I spoke about dating and living abroad with a food allergy. I was overwhelmed by the response to the magazine and it went viral within 24 Hours of the local newspaper posting about it on their website.
Since then May Contain has evolved from a magazine to a blog and in 2019 I created a community online by sharing my experiences on Instagram and TikTok. What I'm most passionate about is the May Contain podcast and how I challenge the change in the way we speak about our allergies to empower young people all around the world to feel confident and empowered.
2. Do you have allergies yourself? If so, what allergies do you have?
I live with a severe allergy to peanuts and tree nuts. I found out at the age of five when I was coming back from school, my grandma gave my mum a chocolate bar. I took one bite and spat it all over the back seat of the car to my mum's horror. Within seconds I came out in hives and rash across my whole body. The rest is history really. I did all the allergy tests and have been super allergic to nuts since.
3. What is your favourite holiday destination that you have travelled to that has catered to your allergies the best?
Hands down it must be Greece. I absolutely love it there, II went to Greece for like 5 years in a row. Mykonos, Paros, Santorini, Ios, Athens, you name it I've been there. The food is delicious and they don't really cook with nuts in Greek food. The people are always super friendly and understand when I ask them about allergies – when I eat out at different restaurants. My girlfriend is Greek which definitely helps when trying to translate about my allergies. I did learn basic Greek and felt confident enough to even ask them myself.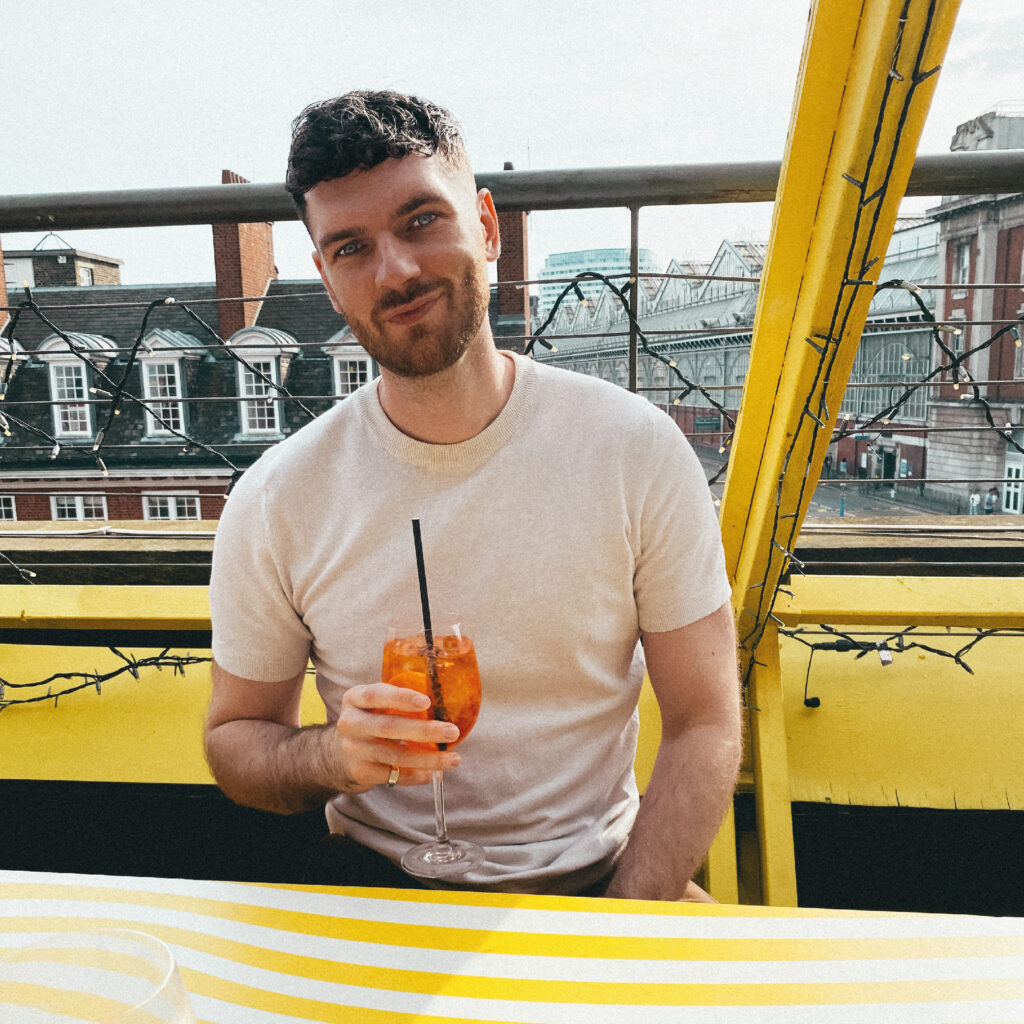 4. What subject topics do you cover on your podcast?
The idea of the podcast came to me on a train journey back to London, if I was honest I was bored of listening to people talking about allergies in a very medical way. I decided I wanted to break the stigma and make allergies more relatable and make young people feel less alone. I started my podcast by having my friends on, we would talk about dating and traveling with a nut allergy.

It has grown a lot since then. I now have different guests on the podcast each week to break the stigma of food allergies, this could be speaking with professors, psychologists, CEO's, and bloggers.
This year I have decided to also branch out the world of allergies and highlight other inspiring advocates who are breaking the stigma in their fields. It was a little scary if I was honest as I was worried what people might think and whether they thought I was moving completely away from allergies – don't worry I am not.
May Contain has always been about breaking the stigma, why should I stop just at just allergies. I've always said I'm not defined by my food allergies, it's a super exciting time this year to have other guests who are breaking the stigma. This year I've spoken with rappers breaking the stigma of being sectioned, addiction, relationships, conditions the list goes on. I absolutely love speaking with people from all walks of life.
5. What supermarket do you find is the best for catering for your allergies? Is food shopping challenging for you?
I wouldn't say food shopping is challenging for myself, as I always eat the same food and don't really break out of eating new stuff that often. I do my food shopping online at Asda, when I run out you will find me at the local Tesco spending a fortune on food. I'm a big eater.
6. What would you like to achieve in 5 years with 'May Contain'?
I love doing the podcast and interviewing new and exciting people. It really opens up your eyes to the world and you get to hear about their experiences and what they have learned whether that's failure or success. If I could do the podcast full time one day that would be amazing (anyone wants to sponsor me give me a shout haha) if that doesn't materialize I would still do it anyway.

I just want to keep being as consistent as I can with May Contain and reach as many people as I can to make them feel less alone and empowered living with a food allergies. The messages and DM's make me feel so fulfilled that I am making a real difference. I just want to keep going and building the community around May Contain, I am so grateful to everyone that has been on this journey with me. It's given me so many amazing opportunities.
Make sure to checkout Dan's social channels you can find him on Instagram (May Contain | Allergy Blog & Podcast (@_maycontain) • Instagram photos and videos) and YouTube (May Contain – YouTube) and his blog (https://www.may-contain.com)